SGPC Meeting Archive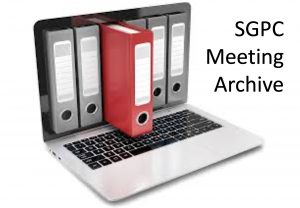 Our SPGC Meeting Archive contains Agendas, Minutes and other papers relating to our Sibford Gower Parish Council meetings.
Details of our upcoming meetings can be found in The Sibfords Village Calendar on this website.
After a meeting, the Parish Clerk drafts minutes for the Parish Councillors to review before publishing them here in draft – usually within 28 days.
The minutes are reviewed and formally approved at the next meeting of the Parish Council. The approved version is then published here, replacing the draft.
This Archive is arranged with a separate page for each financial year (1st April – 31st March), sorted in financial year order, with the latest first.
Documents within each financial year are sorted in date order, with the oldest first.
Oxfordshire History Centre

The Oxfordshire History Centre is located at St Luke's Church, Temple Road, Cowley, Oxford OX4 2HT, and is established to provide secure long-term storage of identified types of historic records for the County of Oxfordshire.

Parish Council minute books are among the identified record types, and the document below includes a Schedule of Sibford Gower Parish Council deposited records, together with a letter detailing how to access these historic records, by quoting Accession No. 6977.
last updated