Sibford Gower Parish Council – Extraordinary Meeting – MOVED ONLINE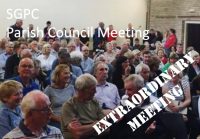 Zoom online teleconference
The Sibford Gower Parish Council have arranged an Extraordinary Meeting to allow essential business to be conducted during the Coronavirus crisis.
It was intended for this meeting to to be held at the Sibford Village Hall, but latest restrictions make this impossible.
The Councillors will now be meeting via online teleconferencing at the notified time.
If you would like to join this meeting, please follow the instructions below:
Prior to the meeting, you will need to either:
Download the Zoom software to your laptop or desktop: 

https://zoom.us//download

 probably "Zoom Client for Meetings", or

Download the Zoom app to your smartphone or tablet from Apple at the App Store or Android at Google Play.
There is no need to sign up for a Zoom account if you are just joining a meeting hosted by someone else.
As long as you have already downloaded the Zoom software to the device you intend to use, you should be able to join this meeting by:
Clicking on the "Join Zoom Meeting" link below, and

Entering the "Meeting ID" when prompted.
You should be able to join early, but the actual meeting won't start until around 7:30pm due to the time restrictions.
Sibford Gower Parish Council is inviting you to a scheduled Zoom meeting.
Topic: Sibford Gower Parish Council Extraordinary Meeting
Time: Mar 25, 2020 07:30 PM London
Join Zoom Meeting
Please note that the whole meeting is limited to 40 minutes, so please join promptly so we can get started ASAP.
The full agenda was published on Thursday 5th March 2020, and can be found in our Meeting Archive.  (This agenda remains valid, with the exception of the proposed location).
Kirsty Buttle
Parish Clerk /RFO
sibford.gower.pc@thesibfords.org.uk
74 Beaulieu Close, Banbury, Oxfordshire OX16 4FQ