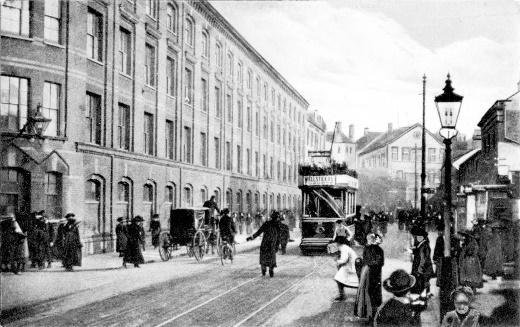 In 1846, Huntley and Palmer opened a large factory on Kings Road in Reading. Palmer had begun to transform the business, developing the first continuously running machine for making fancy biscuits and setting up a properly organised factory. Joseph Huntley, senior, died in 1857 and George Palmer and his brothers bought Thomas' interest in the company becoming Huntley and Palmers, retaining the Huntley name. At their height the company employed over 5000 people manufacturing over 400 different varieties of biscuit. They traded in 137 countries all over the world and their biscuits were taken on the ill-fated trip to the Antarctic in 1911 with Captain Scott.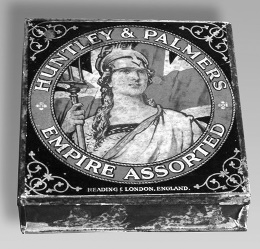 In 1921 Huntley and Palmers merged with Peak Frean to form Allied Biscuits. W.R. Jacob and Co. joined the Group in 1960. The Reading factory was eventually closed in 1976 and moved to Liverpool. In 1982 Associated Biscuits was bought by the American multi-national, Nabisco. Renamed the Jacob Bakery Company they were absorbed into the dairy group, Danone in 1994.
In 2006 Huntley and Palmers resumed separate operations in Sudbury, Suffolk. In 2008 they were acquired by the Freeman family who had three generations of biscuit manufacture.
In his diary Rev Edward Stevens included a cutting from the Banbury Advertiser, 26 September 1895:
A LEGACY FOR THE FRIENDS' SCHOOL. Under the will of the late Mr. Joseph Huntley, of Earlham Villa, Kendrick Road, London, the Friends' School, Sibford, receives £200. (current value £18,000). The will was proved at upwards of £74,000, (approx. £7 million today) and bequests were made to numerous benevolent and philanthropic institutions.
That benefactor was Joseph Huntley, the tin maker – younger son of Joseph Huntley, the Quaker founder of the original biscuit company who had been headmaster at our village Primary School. How interesting that part of the financial success of the Huntley and Palmer bakery business returned to benefit Quaker education at Sibford School.
Maureen Hicks